As I was making the round this weekend doing the household chores - I happened to glance up at the TV which was on QVC and noticed
this
unusual storage device by Lori Greiner. I have to admit like the Idea of it... but I'm not sure if I would actually purchase it.
The concept: A Spinning Mirrored Storage Cabinet that holds up to 300 pieces of Jewelry.
Two mirrored doors, one stationary shelf, three tilt shelves
16 necklace hooks, 16 bracelet hooks, 11 earring bars, ring storage tray
Silver Safekeeper antitarnish lining; helps keep jewelry tarnish-free for 25 to 40 years
Wood/wood veneer construction
Measures 10"L x 7"W x 20-1/2"H
It also comes in a Cosmetics Organizer Which is good if your collection would fit into the unit :) with the same Mirrored design but the inner cabinets are slightly different


The mirrored cosmetic cabinet stores over 150 tubes, jars, and containers, rotating to let you see everything at a glance. A good feature is the lipstick shelves - they tilt out for easy access.

Two mirrored door, tilting shelves
Wood/wood veneer construction
Measures 20-1/2"H x 8-1/2"L x 9-1/2"W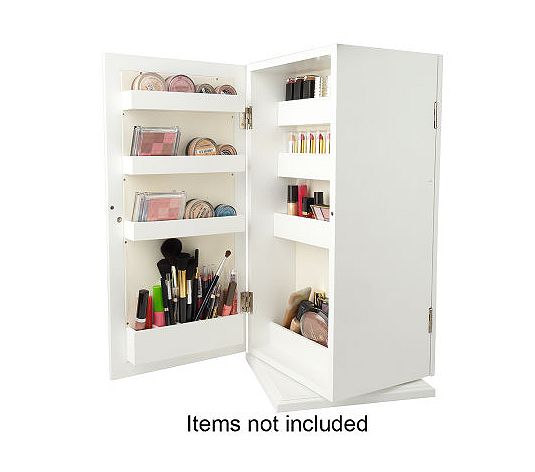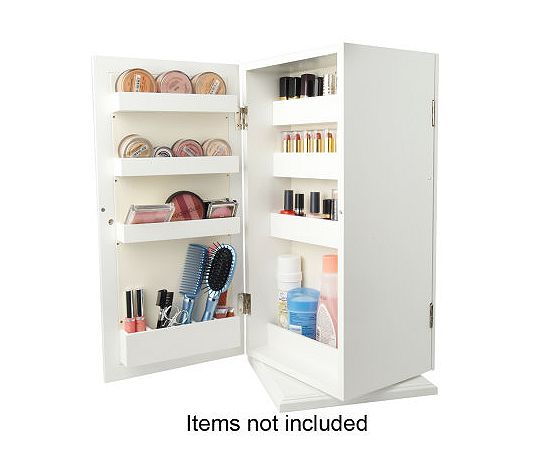 What are your thoughts ?